krystyna fitzgerald-morris
Author Portrait photography that's as creative as you are
A picture of YOU
Your author portrait is an essential part of telling your story. Readers engage with the person behind the words; the words that absorb, engage and entertain them, particularly if you have transported them, perhaps to another place or another time, they want to see who has given them that joy. So make your portrait more than just a 'headshot' – make it the glory of you. BooksOffice resident photographer Krystyna Fitzgerald-Morris is an artist with the camera, a woman whose passion is to capture the person you want people to see. I asked Krys to send me some words about her work and true to form, what she sent is a loving, long and open letter – by clicking the envelope icons on this page you can read what she has to say and find out about her own extraordinary life. Some of her amazing work is also shown here – by the time you've reached the end of the page, you may decide you would like to see yourself in all your glory, if you do, get in touch! 
I was born in Liverpool at the end of 1964 and brought up in a small town about ten miles away. I met Peter Morris in 1982. He was co-editor of HomeGound the Kate Bush Magazine, along with Dave Cross and Mandy Knott. I adored Kate Bush. I'd seen issue 2 of HomeGround advertised in Sounds. I ordered a copy which duly arrived. Peter had included a letter to me and in return I sent him a copy of my illustrated poetry book that my Dad had printed for me. As I posted it I thought "What have I got to lose?" Peter wrote back and we became friends. We met in November 1982 and friendship grew into love. After taking my A-Levels in 1983, Peter and I got engaged and I then went to Art College for a period of months but I was unhappy doing the foundation course, so decided to leave college and home and find a job in London. I moved to the South East in 1984, and was married to Peter at the end of that year. Kate phoned me on my Wedding Day and I floated down the aisle. We have lived in Rochester, Kent ever since.
In 1983 Peter and Dave asked me to become co-editor of HomeGround when our lovely friend Mandy left to follow other paths. From then until 2011 I produced and co-edited the printed magazines, the final printed issue, number 79 was published in 2011. We joined forces with Sean Twomey and his website KateBushNews.com. In 2009 we were approached by a publisher to ask if we would consider making HomeGround anthology. We went ahead and this resulted in a two-volume anthology with additional new material and was published in 2014 (& took us six and a half years to produce!)
          it is very much about building a mutual trust of one another. It's about being in each other's company for that hour or two, and creating images that portray the spirit of the person,
the real person
– Krystyna FitzGerald-Morris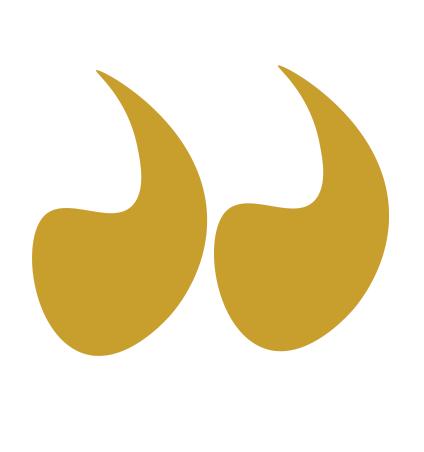 Krystyna is incredibly gifted. She is blessed with the ability to LISTEN; to really listen, and to take care to really understand and visualise what I am trying to achieve. She has created a most beautiful album cover for me, as well as stunning studio portraits, en plein air shots and has captured wonderful live performance moments. I can't recommend her highly enough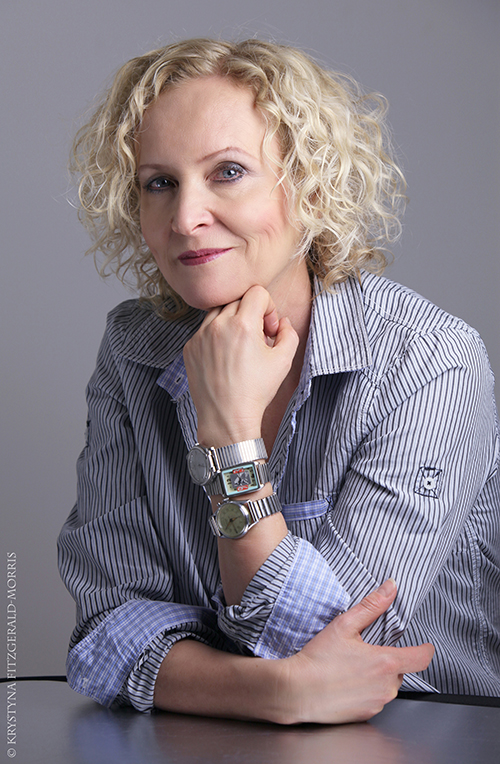 Krystyna's gentle, encouraging nature allows for an intimate rapport in the studio. She puts me at ease during a shoot by offering a safe, friendly space where I can drop the ego and give in to the creative experience. Krystyna sees the beauty in people and captures this with precision and joy. She is an intuitive artist and a highly skilled photographer. Her work is beautiful, original and often spectacular.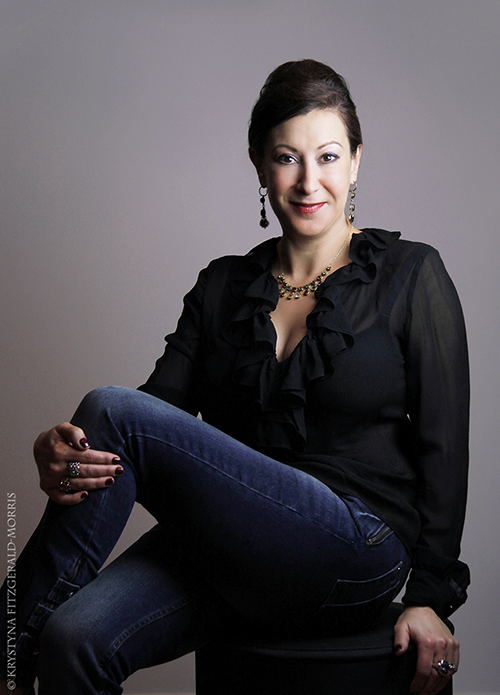 I always love being photographed by Krystyna; she not only makes you look wonderful, but the process is a delight as well. She's a joy to work with and her photographs are drop-dead gorgeous!
Handled with care! Krys's goal is that the best you is there on the day – allow her experience and professionlism to help you prepare
Once a booking has been confirmed I send an email to my client with a check list and practical advice about preparation for a photo shoot. For example, keeping hydrated and getting enough sleep during the weeks before a shoot to avoid tired eyes; advice about colours to wear and those avoid, and to ask my clent to think about the kind of image they would like to present to readers and audience: for example, is there a particular mood or quality that they want to convey to the viewer? I generally suggest that a mix of serious, warm and smiling, and moody images is a good idea and gives plenty of options for usage. The expression in the eyes is absolutely crucial. I keep in touch by email as the shoot gets nearer with a reminder of the checklist.  
Each photo session is tailor-made to the individual, for their particular requirements and how the final will images be used, whether that is in print, online or both. I also believe that a photo shoot should be fun, even if the resulting final photographs appear to be serious or a bit mean and moody. The session takes an hour or two depending on the number of images that are required. 
Over the years I have found that when I am photographing someone, it is very much about building a mutual trust of one another. It's about being in each other's company for that hour or two, and creating images that portray the spirit of the person, the real person. As I've said before, it really is about the expression in someone's eyes. It is also crucial that the person I am photographing actually wants to be photographed. It is not an everyday thing to sit for a portrait, especially if it is in a studio. It may feel a little scary or intimidating, especially if that person is feeling shy or a little nervous. I do my very best to put them at their ease. I usually play music low in the background to help to create the right mood. And a glass of wine is always available for after the shoot if my client would like one. 
After the shoot I put the images onto my computer and look carefully at every one. This can take a few days depending on how many photos I've taken. I then send the best images as small sample sizes for my client to select the specified number of images they would like me to process and edit into full resolution images suitable for both print and for online use. 
Influences, Inspirations and experience, find out about Krys's journey with photography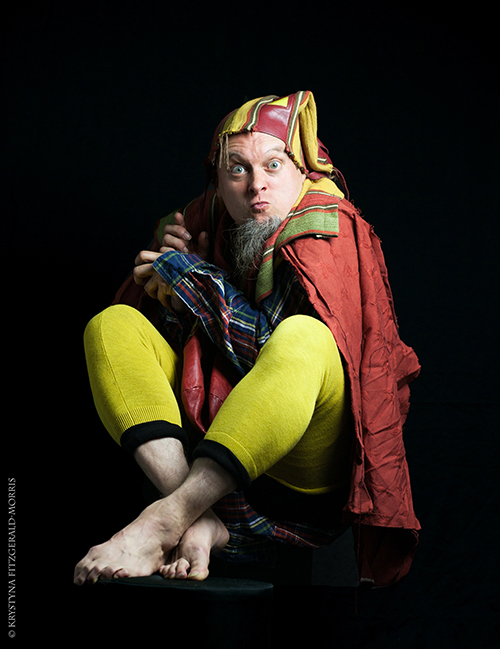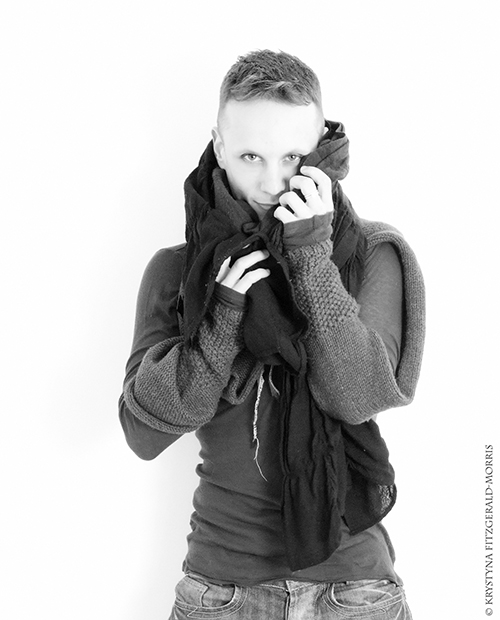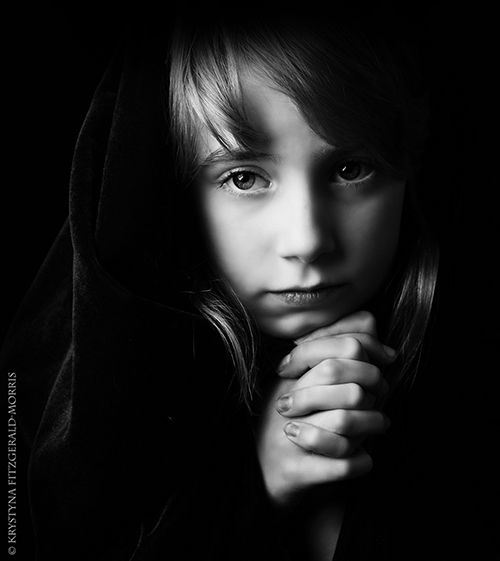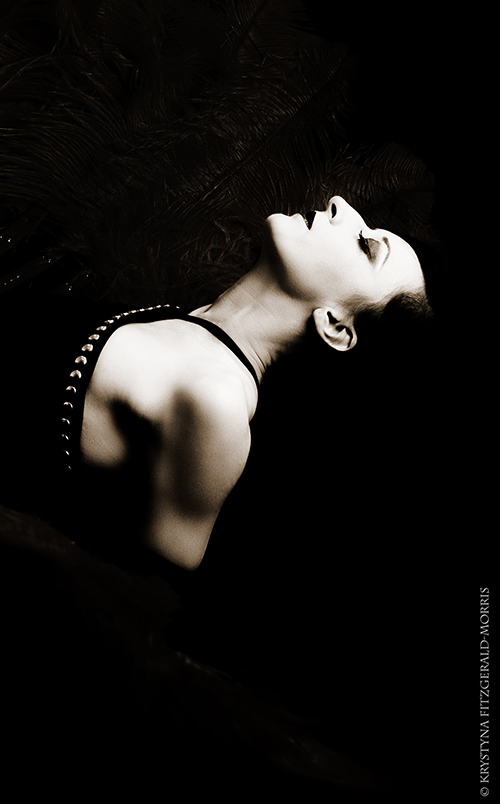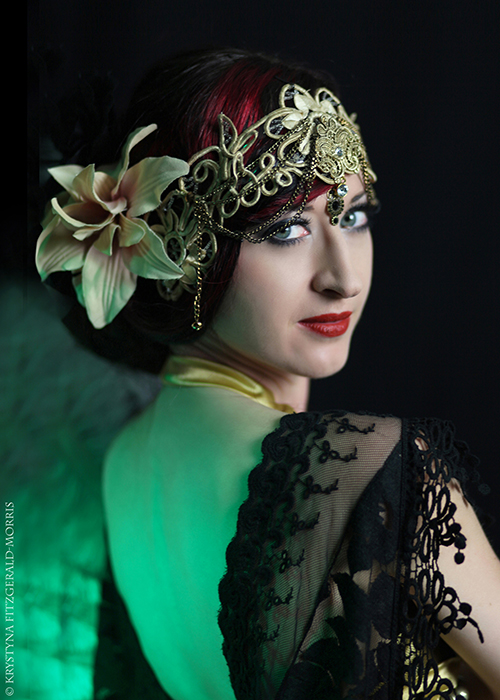 For years I had been inspired by John Carder Bush's photographs of his sister, Kate. They were so unique and made me want to buy a camera and have a go at photography myself. In 2005 I bought my first camera, a small Olympus. I photographed everything! Flowers, cats, places, people. In January 2006 I had major surgery which changed my life for the better. It gave me a new pain-free life and although recovery took the best part of a year, in April 2006 I saw a notice in a shop window in Rochester offering a part-time job as an artist painting bespoke designs on children's furniture. I applied and started working there in the May. This got me back into my painting again, a technique that would prove to be very useful in terms of processing and editing photographs on my computer. I continued to take more and more photos of people. I found that was where my passion for this particular form of art lay. Friends kindly obliged and let me photograph them. When I didn't have a model (this makes me cringe!) I used a remote trigger hidden in my hand and practiced by taking photos of myself. It was a useful exercise in how angles work or don't work, such as not shooting up the neck or up the nose! There was one particular self-portrait shoot that I won't forget – I didn't have my studio at that time, it was around 2008, so set up backdrops on stands and lighting in my conservatory. I was lying on the floor, with the camera on a tripod several feet above my head, and then got into pose position. As I moved I pulled the backdrop with me and I watched in mild horror as the backdrop stands both started twisting down in slow-motion towards me. I kept my finger on the remote and caught most of this. I was laughing so much, my arms and legs in the oddest of contortions as I trying to steady the falling stands and prevent the camera and tripod from crashing to the floor – and yelling for Peter to come and rescue me. 
In 2008 I started learning belly dance with teacher, Ann Hall. It was enormous fun. Ann and I became good friends, she taught me to dance and introduced me to the whole new and exciting world of belly dance. This lead to me photographing many belly dance shows, events and hundreds of dancers. I love the drama, the theatricality, the beauty, passion, all expressed using the entire body and being, and all of the different forms of dance style that go under the name of belly dance. Capturing movement, with my focus and concentration on the dancer's face and expression as she or he danced, the elegance of the hands, the deliberate placing of the feet, the line of the whole body, the shapes created by isolation of the muscles, the flutter of silk veils, and colours and glitter of the costumes. There's a place that most dancers go to when they enter that almost otherworldly zone created by the mix of the music, the drum's beat, and the dance itself. Like a Dervish. That place is something I have always tried to capture in my photographs of dancers. Perhaps it is a little glimpse of someone's soul, their spark, their light. Whatever and wherever it is, it is a magical, beautiful place. 
As well as being my teacher, I asked Ann if I could photograph her, so she modelled for me many times, sometimes dancing in fantastic Gothic Tribal belly dance costumes (she was a Bride of Dracula in a belly dance show), or elaborate Egyptian dance costumes, or Ann just being Ann. She has always been so incredibly supportive and gave me the idea and the encouragement to turn doing what I loved into my own portrait photography business. So in September 2009 I set up my own business as a portrait photographer having had the garage converted into a small studio at my home. A room of my own, a room to work, to create. 
Since then I have photographed many people and have so many favourite moments. I had the utter joy of capturing a one year-old's first steps. She took those steps from her father's arms towards the camera which was on a tripod at toddler height. She'd been fascinated by it and she just wanted to see it for herself. I treasure those photos. She is 11 now and has an excellent photographic eye. A couple of years ago I did a shoot with Sophia and her future wife, Heleana. That afternoon my studio was filled with their love and happiness. It was an absolute joy and an honour to be with them both and to create these portraits. Another absolute joy to photograph was D.J. Connell. Fearless and beautiful. I feel very lucky that some of the people I have had the pleasure of photographing have also become friends and creative collaborators, in particular Lenka and Ash.
It was at a belly dance show in February 2009 that I first saw Lenka dance. She had something very unique. After the performance I spoke to her and asked if I could photograph her.  So she came to my home and we did the first shoot in my front room. I've had many photo shoots with Lenka and we have become good friends. We work very intuitively together. A wonderful creative partnership. She knows when to tilt her head a fraction of an inch, to express a particular look in her eyes. All we need to do is to exchange a look. She is elegant, and almost ethereal, otherworldly sometimes. Lenka lives in the Czech Republic where she is a teacher. She loves bunnies, has a wicked sense of humour and she makes the best cakes! I want to photograph her for the rest of my days.
Another person I love to work with is Ash Mandrake. We met in May 2013 when he was a perfoming his show at the Rochester Sweeps Morris Dance & Folk Music Festival. I had met him briefly once before. I asked him if it would be okay to take some photos as he performed. After he finished his gig, I asked if he would like to come to my studio the next day. So we had our first trial photo shoot to see what we could do. Magic happened as Ash transformed into some of the wonderful characters he has created. He is a storyteller, bard, singer-songwriter, with the soul of a poet. He travels around the land like a troubadour and performs at festivals, events and pubs. We have so much fun creating together, his imagination is startling and mastery of language in his songs and stories is so visual and so very beautiful and powerful too. He's like a visionary from another time and place. He inspires me every time we meet, whether it's just a chat for coffee for a few hours or when we are doing photos together. Our shoots always have a theme, a vision in mind, a particular character or characters for a song or story. The session usually evolves as we bounce ideas around. A buzz of creative energy whizzes around the studio. Sometimes shoots last for 4 or 5 hours. One of his cheeky characters a couple of years ago was The Old Woman of the Forest. We tried everything from black paper to mascara to black Ash's teeth out leaving only two at the front that didn't ever meet. The old woman was very naughty with wild eyes and a big gummy grin, sat cross-legged on top of one of the studio posing tubs. Ash went into character, but there was something not quite hitting the spot. We stopped and looked at each other and I said to him "I can't quite put my finger on what it is that's not quite working." There was a silent pause and Ash replied, "The beard maybe?" We both collapsed in a heap of laughter! We got there in the end with the Old Woman of the Forest. Though every time she spoke I laughed and had to try my hardest not to shake the camera. Many more shoots with Ash are planned. 
In 2011, my friend Dave, (as mentioned above) thought it would be a good idea for me to photograph his friend, Paul Burston, author, curator and host of award-winning LGBT+ literary salon, Polari at the Southbank Centre in London. So Paul came over and we instantly clicked. On that first shoot we created some quite dramatic and theatrical portraits, using a variety of lighting and my fog machine. One of the portraits was then used as the Polari photograph and was printed in the brochure for the South Bank Centre. I have photographed Paul many times, including some fun shoots with lots of dressing up, plus his author and Polari portraits ever since. I went with Dave to Polari, held at the Royal Festival Hall on the South Bank, for the first time in January 2012 and took photos at the event of the writers and performers who showcased their work on stage. I became Paul's official event photographer for several years where I had the pleasure of photographing many writers, poets and performers incuding Celia Imrie, Helen Lederer, Philip Hensher, Stella Duffy, Sophie Ward, V.G. Lee, Ali Smith, Kiki Archer, Rebecca Chance, Diriye Osman, Damian Barr, James Maker, Marcus Reeves, John McCullough, Barbara Brownskirt, Alex Marwood, Penny Arcade, Bernardine Evaristo, Helen Smith, Paul Bailey, Neil Spring, Philip Hoare, Jonathan Harvey, Paula Varjack, Suzy Feay, Neil Bartlett, Julie Bindel, Alexis Gregory, Maureen Duffy, Matt Cain, Veronica Fearon, Sophia Blackwell and Mari Hannah. There have been hundreds of wonderful writers, poets and performers who have stepped onto Paul's Polari stage. It is a fantastic event and thank you to Paul for such an incredible opportunity.  
I've photographed musicians, performers and singer-songwriters Del Palmer, Beck Sian, Sky Boswell on stage and in my studio. And I've had the great pleasure of photographing in my studio authors Rebecca Chance, Christopher Fowler, John Carder Bush, Paul Burston, Fidelis Morgan, Collin Kelley, Sophia Blackwell, and D.J. Connell.
My photographs have been published in print and online in The Guardian, The South Bank Centre, Attitude Magazine, DIVA, Boyz, The Stage, author photos used in several books, local press, literary festival posters, brochures and CD artwork and covers.  
         

sometimes quite suddenly people enter into our lives with a whirlwind of energy and wonderful things can be created as ideas bounce between minds. From that initial seed of an idea that grows and evolves and takes all kinds of twists and turns along the way. I think of the many creative, inspirational people I have met over the years and continue to meet today and look forward to meeting in the future.
– Krystyna FitzGerald-Morris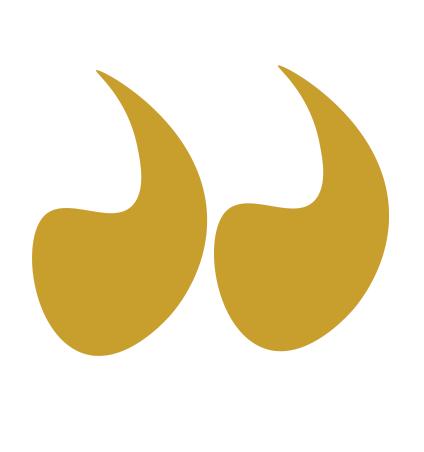 Krys shares how her love of one of history's most famous – and most enigmatic – authors, inspires her creativity
2nd July 2019. It is a perfect Summer's day with gentle breezes drifting and I'm sitting at Vita Sackville-West's long dining table in the corner of the White Garden at Sissinghurst. The garden is full, overflowing, with white flowers and bees are humming to themselves. The flowers' cocktail of scents is intoxicating. It is peaceful here despite being at the height of Summer with visitors buzzing around the garden like the bees and sniffing at the flowers. To my right Vita's Tower rises into the sunshine and clear blue skies. I'm breathing in the very essence of this perfect place. I think of the stories and poems that Vita wrote here, in her Tower room. I wonder if she used to write at this table, making her notes for her fiction, poetry and gardening books. Or writing letters to friends and lovers.
I think about Vita's creativity, what made her tick, what made her write from childhood and throughout her life. I think about creativity and how people inspire each other. (I wanted to find the quote by Virginia Woolf to Vita about isnpiring each other, being the making of each other,to put here but can't find it – I'll keep looking). These connections and meetings, how they happen and then evolve over time, or sometimes quite suddenly people enter into our lives with a whirlwind of energy and wonderful things can be created as ideas bounce between minds. From that initial seed of an idea that grows and evolves and takes all kinds of twists and turns along the way. I think of the many creative, inspirational people I have met over the years and continue to meet today and look forward to meeting in the future.