INSIDE A DOG'S MIND
We Are in Development!
Our 1st project to make a trailer of novel INSIDE A DOG'S MIND by author MICHELLE HOLLAND is under way! This is the story our readers chose to adapt for screen and we're excited to start the journey towards filming! You can keep up to date with our news and progress here – and there'll be lots of ways for you to get involved – starting with our doggie casting!
ABOUT  INSIDE A DOG'S MIND
Jacob's Story
Inside A Dog's Mind is a true story based on a lovely Collie dog called Jasper, who Michelle Holland rescued 8 years ago. Jasper is called Jacob in the book.
The story is told from Jacob's perspective and gives us a unique understanding of how our pet pooches see the world. It tells how Jacob, as an 8 week old happy puppy, is taken to a new home where his hooman parents do not treat him kindly and he ends up  hungry, hurt and frightened.
Until one day his is rescued…
Join us on this journey to tell Jacob's story and how he escapes his past and is helped to find a new future.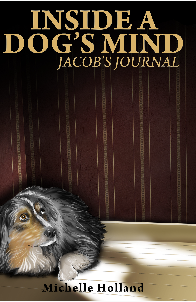 Read the Book!
Order Inside A Dog's Mind and read Jacob's story – 50% of the proceeds from all sales go to support animal charities!
WE ARE CASTING!
See our Doggie Pawditions on Instagram
FIND out more about HELPING PAWS 
Help Support Rescue Animals 
Making Donations
Every penny of the money that Helping Paws makes goes to help animals across Europe. They have rehomed over 400 dogs and also work with ponies and cats. The 'Pawsters' are the team who help with their actvities and they regularly appear at events and run auctions to raise funds 
GET INVOLVED WITH BOOKSOFFICE
Your Chance to Shape the Future of Film and TV